Czech Ambassador Hosts National Day Event
02.11.2010 / 11:05
(This article expired 29.07.2013 / 11:05.)
Written by Diplomacy.co.il
Monday, 01 November 2010 18:01
The Embassy of the Czech Republic in Israel marked the occasion of the country's National Day in an event at the residence of the Ambassador of the Czech Republic to Israel, Mr. Tomas Pojar.

A variety of dignitaries attended the event, among them, Vice Prime Minister and Foreign Minister, Avigdor Liberman.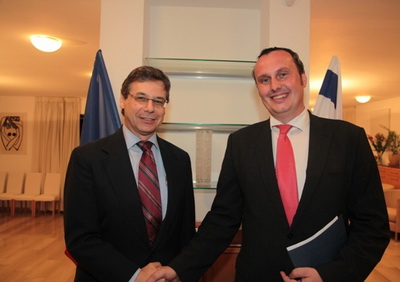 Mr. Pojar welcomed those in attendance to his home stating that it is a privilege and honor to host his homeland's National Day as a second generation representative after his father hosted the celbebration in the same place years back honoring the Czech Republics first National Day.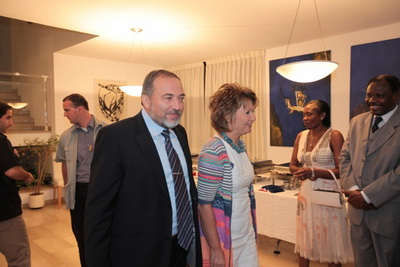 Ambassador Pojar spoke about the appreciation and admiration of the Czech people for freedom and independence and the experience of his nation during the division of Czechloslovakia
"The bond between [Czech Republic and Slovakia] our two countries is unbreakable", the ambassador said, referring to the suffering of both people until each earned the right to self-determination in their own homeland




After the words of the Czech Ambassador, Vice Minister of Foreign Affairs, Danny Ayalon, addressed the crowd.

Mr. Ayalon thanked Ambassador Pojar for his hospitality, and congratulated the Czech Republic on its National Day.
Mr. Ayalon said that Israel and the Czech Republic share many similar and cherished values such as democracy, freedom, and the pursuit of peace.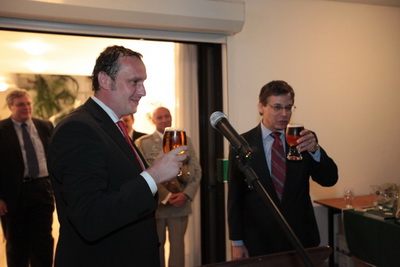 Vice Minister Ayalon noted the fact that Ambassador Pojar is a second generation head of the Czech diplomatic mission to Israel, attesting to the quality of the Ambassador. He further added that he hopes for third and fourth generation Ambassadors to Israel who will carry the same name.

The Israeli Vice Minisiter mentioned the black stain on the history of Europe as the cruel Nazi regime destroyed Czechoslovakia in its journey to conquer the world.
Mr. Ayalon ended his words with a toast to the Czech Republic.

As is customary, the guests enjoyed delicious Czech food from "Little Prague" restaurant as they sponsored the event.